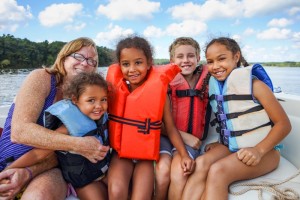 Boating accidents frequently occur because people do not understand the safety rules and regulations and underestimate the dangers of watercraft. Drugs and alcohol are a common contributing factor in boating accidents.
Boating laws and regulations are unique from state to state so it is imperative that you become familiar with the laws in your state, related to recreational boating safety. Laws you need to know include boating education, operator age, water skiing, boat noise, numbering & titling, personal watercraft, boating under the influence, personal flotation devices, leaving the scene of an accident and more.
Taking and passing a boating safety course may give you a discount on boat insurance, as well as increase your water safety skills. Boat safety courses are an excellent investment of time and money, regardless of your state's boating law.
Some of the topics included in a boating course include:
Buckle up with a comfortable and properly fitted life jacket.
Install and maintain a CO detector in accommodation areas. Remember that you can be exposed to dangerous levels of carbon monoxide both inside and outside the boat.
Watch the weather to prepare for local conditions and electrical storms. Because water conducts electricity, it is time to stop boating if you can see or hear a storm.
Tell your plan to a friend on the mainland: who is on the boat, where you will be, and how long you will be gone.
Never operate a boat while or after drinking alcohol.
Keep medications, lighter fluid, bug killers, lamp oil and alcohol out of sight and reach of children.
Post the Poison Control Center number, 1-800-222-1222, on the boat and call its 24-hour hotline for any suspected problems or questions concerning carbon monoxide or other poison emergencies.
List CPR instructions and a local emergency number on the boat.
Keep up-to-date on CPR procedures.
Maintain constant supervision of children, regardless of their swimming abilities or use of life jackets.
Do not swim or wade near a boat's exhaust pipe, Exhaust from boat engines can be deadly sources of carbon monoxide poisoning.
A boat operator may be held legally liable if an injury occurs do to any of the following:
Operating a boat at a high rate speed;
Operating under the influence of drugs or alcohol;
Hitting large wakes at an unsafe angle;
Choosing to operate the boat in bad weather;
Failing to keep a proper lookout for skiers or tubers;
Swimmers coming into contact with boats propellers;
Collision with a fixed object, such as a navigational aid, pier or bridge;
Excess of the maximum capacity or overloading the boat;
Incident involving motorboats, sailboats, yachts and kayaks and swimmers;
Drowning accidents.
Leaving the scene of a boat accident is similar to leaving the scene of a car accident, in addition to being morally reprehensible, is against the law and the penalties are tougher. Governor Chris Christie signed a new law that increases the penalties for leaving the scene of an accident resulting in death to a second-degree offense, punishable by between 5 to10 years in prison. If the accident results in serious injury, leaving the scene becomes a third-degree crime, punishable by up to 5 years in prison.
If you've been involved in a boating accident, call Best Local Attorney today at 1.800.603.6833 to find out how we can help.