Have you been injured in a slip and fall accident and are you looking for the best local slip and fall accident attorney NJ?
We can help. Even if we are not the best law firm for your case, we can help you find the one that is.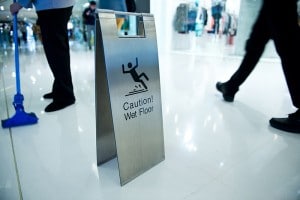 There are millions of personal injuries each year. A slip and fall accident is by far one of the most common personal injuries claims made. While the majority of these claims are quite minor with minor cuts and/or bruises, they can be quite serious. These types of accidents occur every day in parking lots, on stairwells and in stores and restaurants throughout the U.S. and Canada. Some of the more serious slip and fall accidents can lead to broken bones, hip injuries and in some cases, brain injuries suffered during the fall. These injuries may lead to large medical bills, loss of income and can impact not only you, but your family and those around you.
When it comes to this type of claim, the first step is determine who is at fault. If, for example, the threat is already known or assumed, is not the property owners fault, and you choose to "risk" it, then the property owner may not be deemed to be "at fault". In other cases, neglect by the property owner will almost always lead to them being considered liable for a slip and fall. The obligation of proof is you and your attorneys. It is the obligation of property owners to ensure that their premises are kept in good condition. If a court decides that your injuries are as a result of their negligence, they may be liable and you may be entitled to compensation in the form of medical costs, costs related to your rehabilitation and loss of income and in many cases, pain and suffering.
Slip and Fall Accident Attorney NJ
No case is the same and circumstances relating to your case will help determine whether you have a claim or not. In these cases, it is important that you hire an attorney who understands your rights and the responsibilities of the property owner as well as the circumstances. The Best Local Attorney will pay attention to the details related to your case and do their best to find the best way to defend you. Like many other situations, it is important that you talk to an attorney right away as in most cases, there is a statute of limitations with regard to personal injuries such as a slip and fall.
To request a free slip and fall accident consultation simply fill out our Free Consultation form below or call us today at 1.800.603.6833.