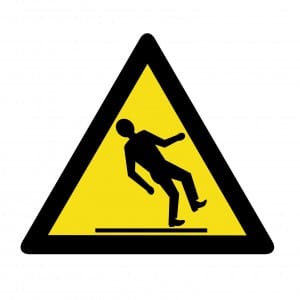 It's that time of year again. Days are getting shorter and the temperatures are dropping. Snow and ice and slippery winter conditions make it unsafe for drivers and pedestrians alike. If you're a homeowner or business, it's important to keep your driveways, sidewalks and parking lots cleared of snow and salted as necessary to prevent ice buildup. Slip and fall accidents are the number one cause of emergency room visits during the winter months and can cause serious injury or death. The winter season is the time for friends and families to get together and enjoy the holidays. To keep you and your family safe this winter season, practice some simple precautions and everyone will have a happy holiday season.
The most important thing you can do is stay alert
When you step off your porch first thing in the morning, make sure the step hasn't frozen over in the night. If you're walking on a snow covered parking lot, assume there might be ice just below the surface. If you're taking the steps outdoors, use the hand rail, walk slower, don't run! Look out for black ice, and keep focused.
Here are a few other tips to consider:
Wear warm shoes or boots with rubber soles or safety grips that will give you more traction.
If you see ice, avoid walking on it if possible. If a sidewalk is a sheet of ice, you might get better traction if you walk on the snow covered grass.
If you are carrying large packages and you feel a fall coming on, ditch the items and use your arms to help break the fall.
If you see a slippery area, test it first with your toe to see how bad it is before you try walking directly on it.
Keep your hands out of your pockets. Your hands and arms help you with your balance.
Be especially careful as you enter or exit your vehicle. Use the car door to keep your balance in a slippery parking lot.
Falls can happen fast and there might not be much time to prepare yourself, but try your best to tuck your chin and avoid having your head hit the pavement.
Dress warm so your muscles stay loose. If you're cold, muscles can tense and throw your balance off.
Use caution when you enter a building with wet boots. There may be wet and slippery spots from all the people who have entered before you.
You can take all the precautions and still find yourself the victim of a wintertime slip and fall. While it's important to keep your home and property safe for your friends, family the mail carrier or anyone else who might find themselves on your property, it's also important for other homeowners and the businesses you frequent to keep their property safe as well. If your fall was the result of a dangerous situation that wasn't addressed by a home or business owner, you could be entitled to recover damages for medical bills and lost wages. Business owners are responsible for snow removal, and to provide adequate lighting in their parking lots and to keep their sidewalk free of ice and snow.
No case is the same and circumstances relating to your case will help determine whether you have a claim or not. In these cases, it is important that you hire an attorney who understands your rights and the responsibilities of the property owner as well as the circumstances. The Best Local Attorney will pay attention to the details related to your case and do their best to find the best way to defend you. Like many other situations, it is important that you talk to an attorney right away as in most cases; there is a statute of limitations with regard to personal injuries such as a slip and fall.
Call for A Free Consultation today at 1.800.603.6833.